Today's Sociological Images post is a great one, I think. Discussing Hayley Morris-Cañero's photography project (which has shown up on my Facebook feed many times now – it's a photo series of the photographer, an overweight woman, out in public, usually being ridiculed in some way), Lisa Wade notes a common critique, that the images are often ambiguous. It may be a leap to assume that some of the people in the photos are reacting to her size. But Wade notes,
As I've thought more about it, I actually think the project's strength is in its ambiguity.  The truth is that Morris-Cafiero often does not know what's going on in the minds of her subjects.  Yet, because she carries a body that she knows is disdained by many, it is perfectly reasonable for her to feel like every grimace, look of disgust, laugh, shared whisper, and instance of teasing is a negative reaction to her body.  In fact, this is how many fat people experience being in public; whether they're right about the intent 100% of the time is irrelevant to their lived experience.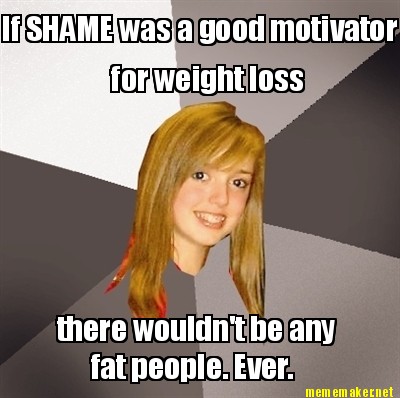 This is what stigma is all about, frankly. The burden isn't on the ignorant person who ridicules or demeans the other person. (They have a separate burden – the burden of acting with a shred of shared humanity and respect.) The burden of stigma is upon the stigmatized. It doesn't matter whether someone in town is being rude to you because you're wearing a scarlet letter, what matters is that you know you're wearing it. The point of Hester Prynne's scarlet letter is to externalize her internal shame, but the shame of members of many stigmatized classes – people who are brown, or fat, or asymmetric, or in some other way fall into a category where outward appearance is assumed to be an external token of disrepute or poor life choices – is already externalized. This is what people who don't have that stigma fail to realize. Whether or not someone notices it, your human interactions are constantly through the lens of that shame you are wearing. It reminds me of a photo project I saw once, pictures of women holding up quotes about being defined as "fat". "Being fat is wearing your shame on the outside," one of the quotes read.
Then there's this comment piece about Rebecca Adlington, a member of that rare class: internationally renowned British athletes. You would think that being a multiple Olympic gold medalist would exampt you from appearance based media bullying but OOPS the Olympic medalist in question has a vagina and thus must first prove that she is a valid ladyhuman in a world where validity = physiognomy. Laurie Penny notes
Since you [Adlington] were a teenager, people have been making money by bullying you because of the way you look. I'm so sorry about that. …They've hounded you for the size and strength of the body that carried you to two Olympic golds. They've bullied you because you were born with the sort of nose that, in Roman times, would have had men ritually disembowelling themselves in order to spend five minutes in your presence. We don't live in Roman times, but we do know something about the savagery of the public arena, and how it demands its pound of flesh.
Adlington has recently retired from swimming, but now the "news" tells us that she's gotten a nose job. Woop-de-freakin' doo, people. Go get your own Olympic gold medal and then you get to whine about her appearance. Nope, wait, you still don't get to do that because it isn't relevant to anything meaningful, ever. Even if she were covered in green fur she'd still be one of her country's greatest athletes of all time. (And given the extra drag caused by the fur, she would be even more spectacularly successful.)
Penny adds
I wouldn't blame you for opting to have rhinoplasty. I don't blame any woman for making that sort of choice in a society that tells us that we are worthless if we aren't young, thin and pretty, even if we are professors, or politicians, or world-class athletes. I just wish we could arrange it so that all the leftover bits of flesh, blood and bone could be boxed up and posted to the editors of glossy magazines with ransom notes demanding our dignity back.

You are not a bad role model. You are a human being who has had to deal with years of traumatic attacks. Nobody warned you that being female and being really, really good at something also requires you to develop the type of tough hide normally found on creatures with far larger noses. Nobody told you it wasn't enough just to be a champion athlete – you also have to put up with the sort of boring misogynist bullying designed to make an example of any woman who is successful on her own terms.
This reminds me of an article I once read which pointed out that all of these adults who despair over teenage girls defining themselves by their looks, the adults who say 'oh, but what about their self-worth as a human', have got it wrong. The problem, the article noted, may be that these teenage girls do know what they're worth to society, and that society at large doesn't give a flying f who they are on the inside.
Finally, let's take a look at what real ugliness looks like.